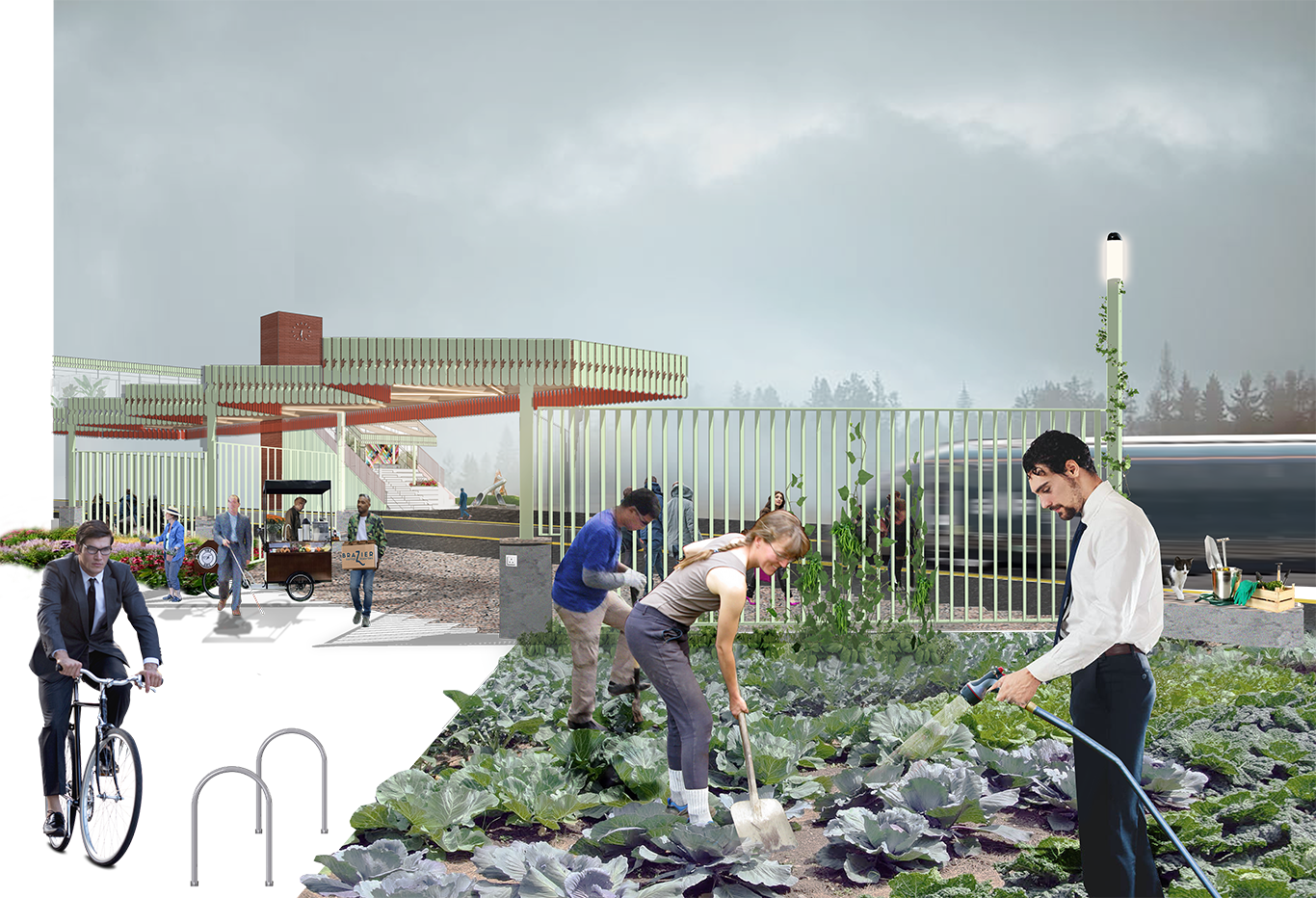 Network Rail invited proposals to "challenge and re-imagine what a 'station' could become in the 21st century as the interface between the community and the railway.
The design competition focused on solutions for more than 2100 small and medium-sized stations across the UK.
WORKSHOP was selected as one of five winners from more than 200 submissions in Phase 1, but the jury did not ultimately select our scheme.
Re-imagining railway stations with a building design alone will not connect stations to communities. We reconsidered station operations and recalibrated the entire site.
61% of passengers at Network Rail's 1192 unstaffed stations do not feel secure, and these stations account for almost half the network!
Passengers security is still low, but improves significantly at the 977 small stations that are partially staffed. This suggests that a person on site will make people feel more secure.
Station Agent is both a role and a design approach that together improve the station experience.
The smallest Network Rail stations have the least amenity but people's needs are not directly proportionate to the volume of passengers at their station.

Stations should have at a minimum: (1) a person on site, (2) a toilet, (3) accessible platforms, (4) comfortable indoor and outdoor spaces.


AN EARLY SKETCH OF OUR STATION VISION
STATION AGENT IS A ROLE
Station Agent activates the space to make a welcoming passenger hub and community hub.
The agent will hold the keys to the site and foster its use by other local groups. The agent is not an employee but selected through an open call process seeking to provide mutual benefits for the agent, the town and Network Rail.
The agent could be an individual, a collective, a not-for-profit or a social enterprise. They could be an gardener-in-residence, an outreach worker or a yoga instructor. They could manage a community kitchen, run a farm store or a book exchange.
The role can help to remove the operational barriers that keep Network Rail from allowing small stations to have green landscaping, public amenities and a fence with wide openings and multiple entry points.
In a time of lower revenues how do we build a business case for the extra costs for the agent role and the support structures that we propose?
Station Agent is conceived to catalyze and support Community Rail Partnerships. Research shows that every £1 spent through a community rail partnership scheme, generates benefits to a value of over £4.60.
A person at the station helps to reduce crime and vandalism, and increase rail trips/revenue. Therefore, we can quantify reduced costs, increased revenue and increase in social value for the stations.
The regular activity and local stewardship that the agent brings allows the institutional spaces of a railway station – a place that literally needs to be bomb-proof in design, to develop a layer of domesticity, to be a community living room with plants, cats, rugs and mugs.

waiting room doubles as a community space outside of peak travel times.
STATION AGENT IS A DESIGN APPROACH
We don't propose a new stand-alone building design.Our approach is additive or parasitic.
Station Agent is a design approach that makes efficient use of existing structures or hacks new components to make them more generous, more inviting and more responsive to people's needs. We propose the existing stations be renovated and re-purposed for community use. Where they aren't available new station buildings will be integrated into accessible footbridge designs.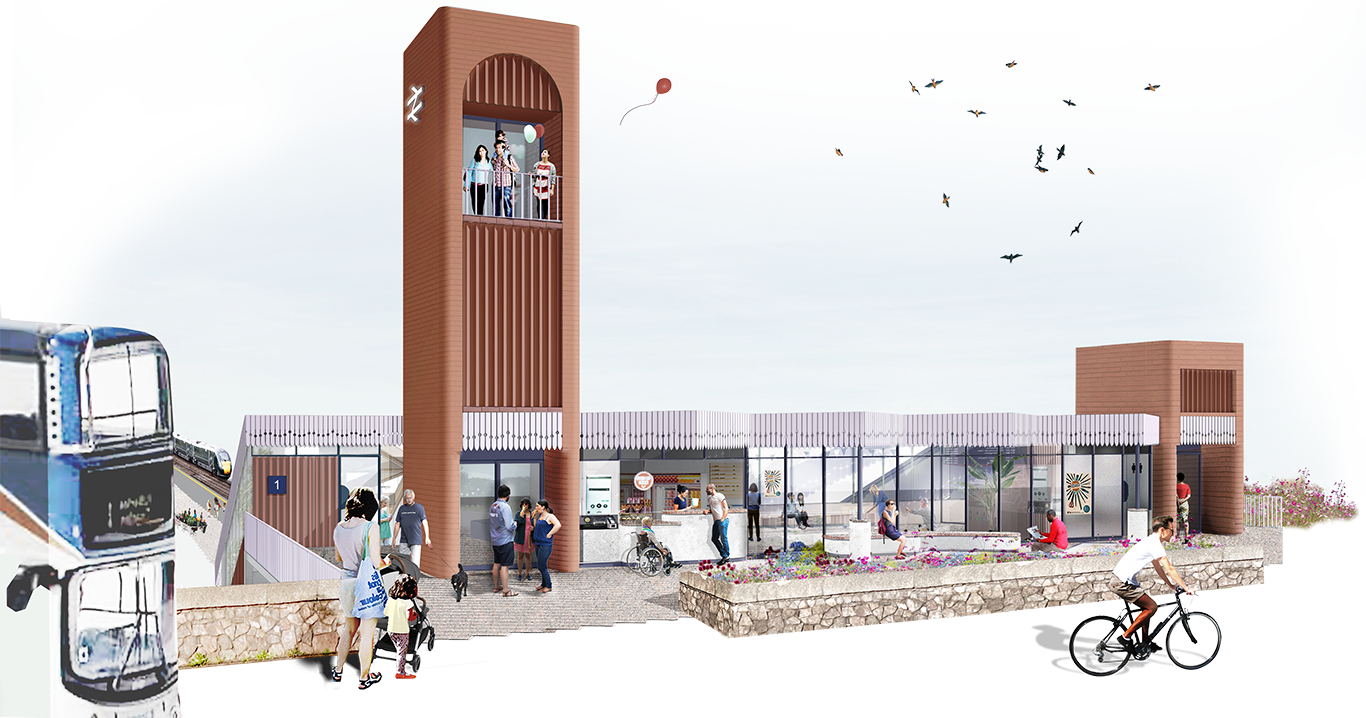 WHERE THE ROAD CROSSES THE TRACKS, THE FOOTBRIDGE makeS a LEVEL plaza entrance for pedestrians.
Frame Bridge design by
Gottlieb Paludan Architects

The lift extends to a look-out POINT
Piggy-backing on a planned roll-out of accessible footbridges, we propose making room for the agent and community uses by tucking space under the stairs and widening the upper deck of the Frame Bridge design.
FOOTBRIDGE HACKED PLANS (WITHOUT PLAZA)
Many small stations do not currently have step-free access, so the lifts in a new footbridge are important, but so is an accessible toilet when it comes to being inclusive for people with disabilities or medical conditions and also to be inclusive to a wide variety of people from those who are non-gender conforming to caregivers.
Constructing a station building and footbridge together in one project will minimize disruption, save costs and be a more efficient use of resources.
STATION AGENT SITE PLAN (WITH PLAZA)
ENHANCE THE PLATFORM
We propose to keep the current 3-metre wide basic platform standard of asphalt and tactile paving adjacent to the tracks for ease of maintenance.
Next to this, we add another 3.5-metre wide granite platform to act as a threshold to connect the community and the station, with integrated services – power, water, shade and cover.
Landscape is a mix of granite paving, lawn, allotment gardens and perennial, pollinator-friendly planting.
POTENIAL CONFIGURATIONS OF HACKS

For existing sites the extent of platform additions would change depending on available land, budget and needs. It could be that only part of the fence is replaced with some new landscaping or the full length of both platforms are upgraded.
A chevron fence pattern makes space, small triangular 'rooms,' on both sides of the fence. The wide gates are opened by the Station Agent in the morning and locked at the end of the day. One day we hope the fence could be removed but the pattern of columns, planting, paving and furniture would remain.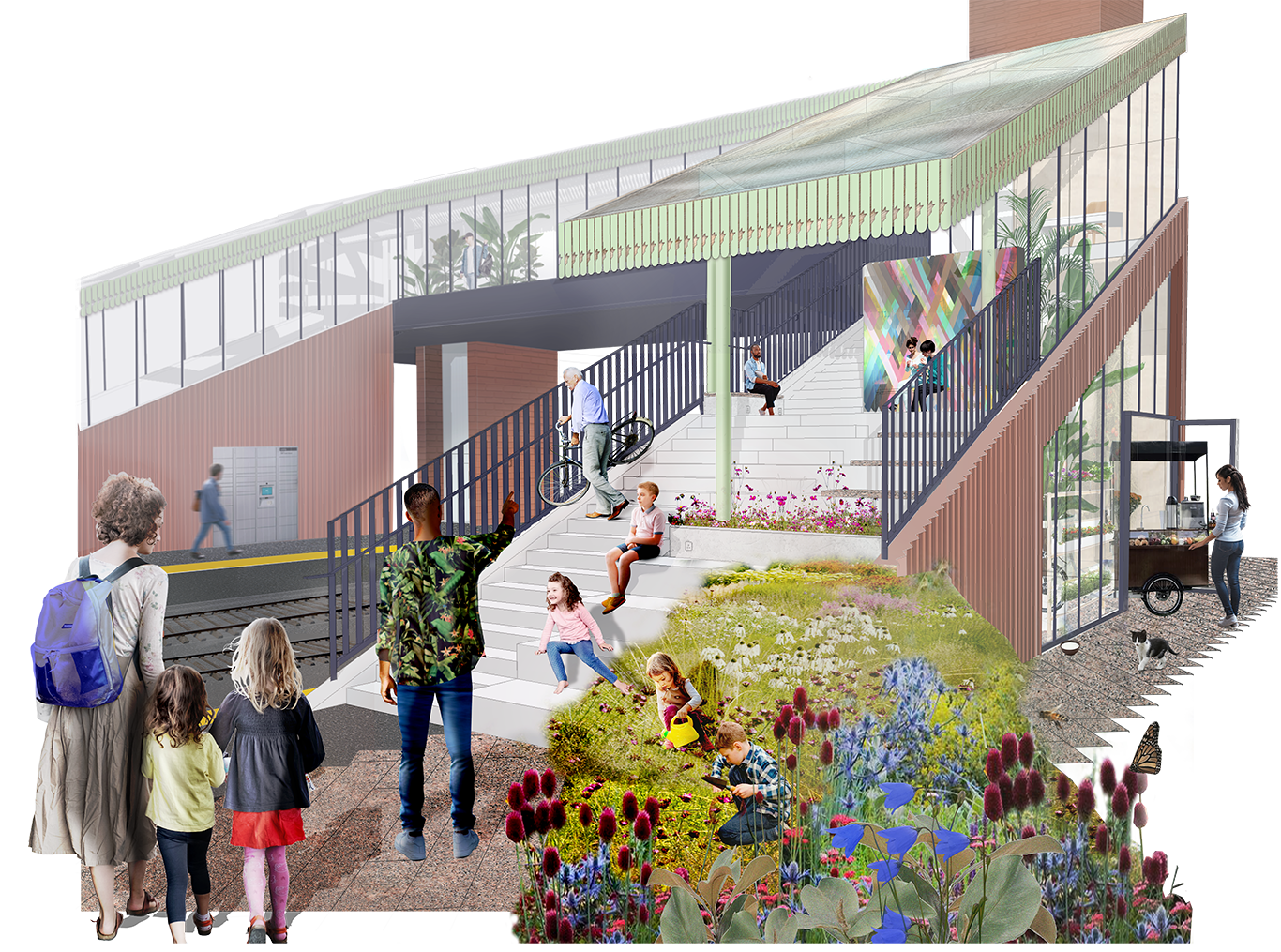 There is a place to sit on a lawn, TO tend a garden before work and TO sell local crafts ON THE WEEKEND.
RENEW EXISTING STATION BUILDINGS
Renewing existing station buildings is a better way to reduce carbon than constructing new energy efficient structures. Existing station buildings are well suited to repurpose as agent studios. Their staff areas already have kitchenettes and toilets. The waiting hall can be a maker space, a gallery or a community hall.
As architects we love every era of UK rail design and would like to renew the existing station buildings from MOD-X prefabs, D70 glass boxes and the neo-vernacular VSB90 to current energy standards as agent studios or community spaces.
EXISTING STATION BUILDINGS
Amongst Britons there isn't as much general appreciation for some of the midcentury stations, but Victorian-era rail designs are loved by many: candy-cane cast iron canopies, decorative daggerboards, and Brunel's cottages, scaled and detailed like a small house – a reminder of the time when the Station Master was at the centre of town life.
STATION BUILDING AVAILABLE TO LET .
RETHINKING THE SITE PLAN
In Phase 2 the sites we were given were both for new stations. That threw us a curveball as our concept was based on addressing existing station issues. We had asked for existing station building plans so that we can show how they can be repurposed, but our request was declined.
Nonetheless, we found that even in planning new stations today, similar problems were being repeated in how land was being acquired with a focus on car drivers.
DAGS HELP TO PRoTECT RAIL PASSENGERS FROM THE ELEMENTS AND CREATE A DRIP-POINT FOR WATER RUNOFF. SKETCHES BY ALAN BAXTER FOR RAILWAY HERITAGE TRUST.
IMPLEMENTATION TIMELINE
DAGS AND DOMESTICITY
We purposefully veered away from an institutional look with forms and aesthetics inspired by the Festival of Britain and that hint at early rail travel and UK village life: tea dances, cake sales and bunting.
Chevrons are a motif that echo the classic British Rail symbol in the design of our fence, the paving, the canopy and its shadow patterns. Daggerboards (a.k.a. 'dags') are used for wind and rain protection, but also to provide an opportunity for an artist to create a local expression for each station that still fits within an overall national identity.
"For the competition we re-imagined the experience of small railway stations to make people feel more welcome and secure.

We imagined at least two ways in and out of each platform with wide gates and a lawn to stretch out on, and a platform lined with wildflowers.

We imagined a welcoming place with a familiar face, a toilet and a warm room where you can make yourself a mug of tea."
— Helena Grdadolnik